Da-Lite Announces High Contrast High Power
May 11th, 2011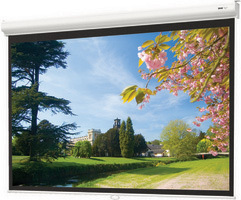 Da-Lite has introduced a high contrast version of its popular High Power screen surface! Da-Lite customers have been telling us that you require a screen material that performs well in conditions where ambient light cannot be controlled and we have developed a solution!
The new High Contrast High Power material is a revolutionary screen surface that provides a unique combination of high gain, along with contrast enhancement. This is in part due to the grey base and highly reflective top surface Da-Lite has selected. The result is a screen surface with both moderate viewing angles and the ability to reflect light back towards the source. These characteristics make this surface an excellent choice for environments with a moderate amount of ambient light and a projector placed on a table top or in the same horizontal viewing plane as the audience.

High Contrast High Power is washable, has a gain of 2.4 and a 20-degree half-angle.
This surface is available immediately on all Da-Lite electric, manual and fixed frame screens. For more information click here!
« View All Posts
« Back