Project Spotlight: The Jimmy Carter Presidential Library and Museum
August 26th, 2010
Every once in a while, a high profile AV project comes along, and many of those projects feature Da-Lite Projection Screens. There are few projects that are higher profile and are viewed by as many people as a Presidential library. Da-Lite is proud to be part of the renovation of the Jimmy Carter Presidential Library and Museum in Atlanta, GA.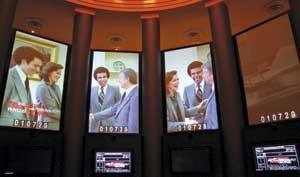 This project, integrated by Design and Production, based in Lorton, VA, was featured in ProAV Magazine in March, 2010, and won the 2010 Best Museum AV Project. This $9.1M renovation occurred 25 years after the library's initial opening, and incorporates not only an overhaul to the original Presidential library and exhibits, but new exhibits that showcase Carter's humanitarian efforts after leaving office.
As part of the new Rotunda exhibit, a quantity of (6) Da-Lite Lace and Grommet surfaces with Da-Lite's High Contrast Da-Tex rear projection material were installed. These screens were installed in a portrait configuration, with a viewable area of 151.5" H x 85.25" W each.
Da-Lite is proud to be a featured part of such a high-profile exhibit! For more on the Jimmy Carter Presidential Library and Museum, click here!
« View All Posts
« Back