Da-Lite's Mount Families
January 27th, 2011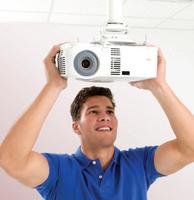 Da-Lite has been quietly and consistently expanding the lines of device mounts to encompass a wide variety of options to address both professional and home theater applications.
Da-Lite's mount solutions include the following styles:
Flat Panel Articulating
Flat Panel Tilting Configurations
Flat Panel Static Configurations
Universal Projector Mounts
Ceiling Mount Projector Shelves
Projector Stackers
Motorized Projector Lifts
Pivoting Motorized Projector Lifts
CRT Monitor Mounts
Video Conference Wall Shelves
Video Conference Wall Boxes
Accessories and Shelves
Da-Lite's flat panel mounts address flat panel sizes from desktop size to those weighing over 200 pounds. Da-Lite mounts are designed with heavy-duty construction, robotic arc-welded joints and sure clamping stirrups that hold securely in the desired position, both retracted and (in the case of Articulating and Tilt models) in optimal viewing position.
Da-Lite's projector mounts are also available in various sizes. For instance, the universal projector mount is designed to accommodate almost any ceiling mount projector weighing up to 50 pounds!
Da-Lite's lifts and stackers also take into account various sized projectors, and provide detailed adjustment capabilities, so that your projected image always lands in the proper position on your projection screen.
Da-Lite's video conference wall shelves and boxes are designed to accessorize one or more Da-Lite flat panel mounts or projection screens, and provide a shelf or housing for your video conference camera. Cameras ranging in size from the smallest to larger camera weighing up to 20 pounds are accommodated in Da-Lite's aesthetically pleasing designs.
For more information on Da-Lite's flat panel, projector and video conference mounts, click here!
« View All Posts
« Back